Your parcel needs to be well protected by strong and adequate packing. During the journey to their destination, parcels will be machine processed and will therefore need both good inner and outer packaging.
Ensure your outer packaging is formed of a carton which is of high quality, water resistant and at least of double wall corrugated cardboard
Packaging Tips:
Boxes are the most commonly used and suitable way to pack your shipment because of the range of sizes, shapes, materials and accessories available to strengthen and secure them It is important that the box size and quality is appropriate for the item being transported as under filled boxes can become crushed whilst over-weight cartons can easily break open. The box must have sufficient strength plus the necessary space to carry the item(s) as well as the protective internal packaging

Single box packing instructions

Ensure the box is new, rigid, robust and in good condition.
• We recommend that a layer of at least 5 cm of cushioning material is placed on the bottom of the box. Some items such as fragile or heavy goods; irregular shapes or metal objects will require more cushioning to provide additional protection during transit • Common types of cushioning and filler materials include:

      •	Bubble wrap
      •	Polystyrene chips
      •	Crumpled newspaper / brown paper

• Wrap each item individually with cushioning material such as bubble wrap and centre it in the carton. Ensure each item is away from other items in the box and place more cushioning around the sides, corners and top of the box making sure all spaces are filled.
• Filler materials offer limited protection for heavy metal items, e.g., metal automotive components. And these types of goods should always be transported in double walled or reinforced cardboard boxes.
Reinforced packing instructions

• Place cushioning material such as polystyrene chips at the bottom of the corrugated box
• Wrap the item(s) individually with cushioning material such as bubble wrap and centre it in the carton
• To restrict product movement, use more filler such as crumpled newspaper or more
polystyrene chips
• Close and tape the inner box using the H taping method (refer to 'Sealing Packages' section)
• Use a second box that is at least 6" longer, wider, and deeper than the inner box.
• Fill any void spaces with more cushioning material at the bottom, round the sides and top
• Again, use the "H" taping method for sealing your package.

General packaging information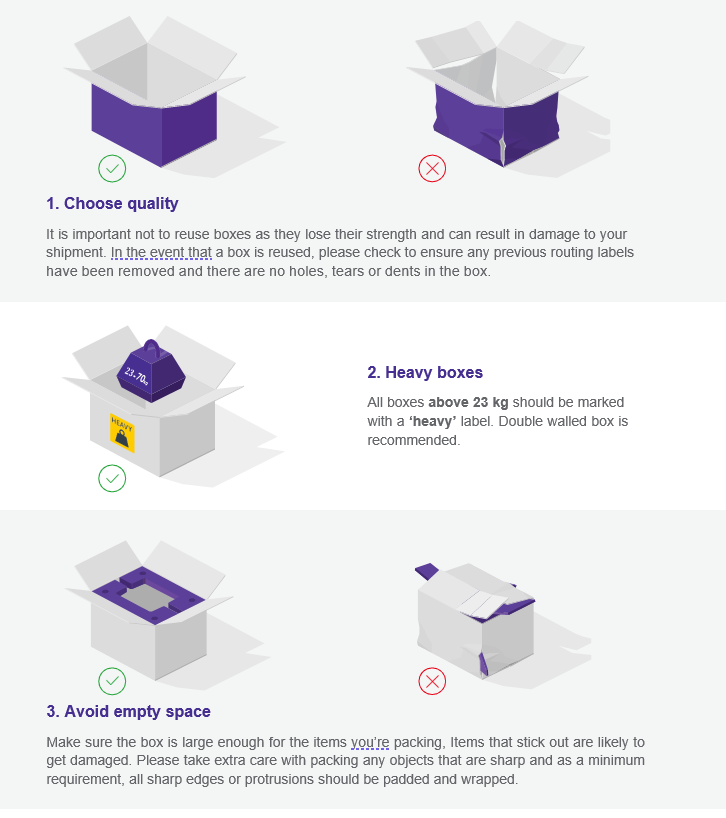 Size and weight Restrictions
A parcel may not exceed the following dimensions:
Length: 200 cm
Width: 80 cm
Height: 60 cm
Combined length and girth: 300 cm
Calculation of max. combined length and girth: 2 x height + 2 x width + 1 x longest side

Parcel Restrictions
For reasons of safety and security there is a list of items which are not allowed to be carried on the SmartParcel service and these include
• Parcels with a goods value of over € 5,000
• Goods that require particularly careful handling (e.g., fragile goods)
• Perishable or temperature-managed goods
• Live animals
• Particularly valuable items (e.g., gold, precious metals and stones, real jewellery, and real pearls, works of art, antiques)
• Telephone cards and pre-paid cards for mobile phones
• Baggage and bottles
• Firearms and ammunition
• Dangerous goods of any kind
• Tobacco, liquors, personal effects, and carnet ATA goods (if sent abroad)
For a full list of restricted items please refer to our restriction page on www.smartparcel.ie ** Please note that the driver will refuse any item that is on the restricted list.
Export Documentation
If you are despatching goods to the European Union, no customs papers are necessary, and no duties or taxes will be applied when parcels arrive at their destination.
When sending parcels outside of the European Union, a commercial invoice will be required, even if the items are being sent as samples or as free of charge gifts.
Please ensure that three copies of the commercial invoice are attached to each parcel shipment when the driver calls to collect. – For further information please refer to the Export Documentation page on our website
Printing Labels – parcel labelling
Our SmartParcel service can only be booked on-line, and you must be able to print labels when you make your booking. At the end of the process the label must be printed and attached securely to the parcel in preparation for collection
** If you do not have a printer connected to your computer at the time of booking you will be able to complete the booking process at a later process as there is an option to save the label and print later. Parcels must also be clearly labelled with delivery address and contact details, including the recipient's telephone number.
If you are placing an order but are having the item delivered to you, you can save the label and email it to the sender who can then attach it to the parcel. But please ensure that there are no other addresses or details on the parcel.
General Guidance
To minimise risk of damage, please ensure that fragile items don't touch each other, or the sides of the carton. Inside the carton ensure that all hollow spaces are filled with padding, such as bubble wrap, polystyrene chips, crushed paper etc. to ensure the contents are protected. Try not to use second hand or used cartons or packing which already show signs of wear and tear. If you do, please make sure you remove any old labels. Do not send your parcels bundled, but always separately. Use a strong adhesive tape to seal the parcel properly on all sides, and if metal paper fasteners or staples are being used, flatten any sharp ends and cover them with tape. Use padded envelopes for smaller, oddly shaped items – keys for example.